«As an impressionist artist, my main task is to work with colour. And my main source of inspiration are flowers.
Being a professional artist, I have participated in numerous international exhibitions. One of the biggest awards - my painting "Irises on the Lake" was selected by the jury of one of the most prestigious exhibitions "Salon Des Beaux Arts" Louvre (Paris) and I was invited to participate in it. I also became a nominee for the "Vera" award at the XXII International Art Festival in Moscow, held in the main exhibition hall Manege.
And my pride - my picture with flowers adorns the transport card of the Troika of Moscow Metro.

The ability to create for me is like air and water. Everything that surrounds me inspires me to create new works. Painting and searching for harmonious colour combinations, the study of colour theories are closely linked to me. Most of all I like to paint flowers".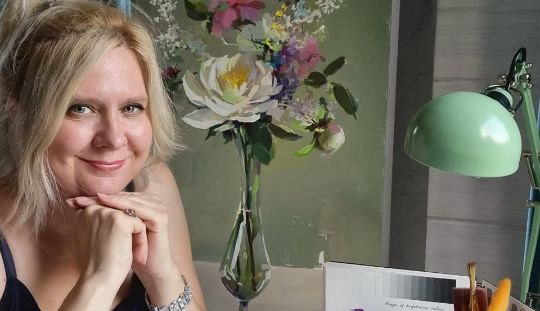 Tempera is an absolutely unique paint, it is suitable for artists who like oil, acrylic or watercolour. The most important difference between tempera and oil is that it is diluted with water. Tempera is slightly less dense than oil, but it can make a pasty stroke. The second main difference from oil is that the paint layer dries very quickly, in just a few minutes, about as fast as acrylic, but at the same time, tempera gives much more matte finish than acrylic.
For painting with Tempera, I use thick watercolour paper, from 250g/m2 and above. I often paint in sketch books, the sheets do not stick together as with acrylic.
No special tools are required to work with Tempera and I like it. I use brushes, I paint with synthetics, a palette made of Plexiglass or ceramic, and a large jar of water. For rinsing brushes, I always use a beautiful glass vase, it makes the work flow more pleasant and nice.


The paint is easily and quickly applied to the surface of the painting. The main difference from acrylic is the consistency of the paint and the feeling when working with it. Thick consistency, very close to oil paints. Unlike acrylic, tempera does not form a film on the surface of the picture, it dries evenly and quickly, the layers do not mix with each other. This characteristic of Tempera ensures the purity of the colour.
Colours mixes can be easily stored in tightly closed jars for at least a month. Tempera is a covering paint, but if you add water to it, it becomes more transparent and looks like watercolour. Tempera is perfectly mixed with watercolours and gouache. I would use oil paints, but this is a long-term technique, with the use of many additional materials, in compliance with strict rules and restrictions in the work. Oil painting is long, while tempera is crazy, fast, emotional and impulsive. Tempera is velvety, it is matte, it is my love».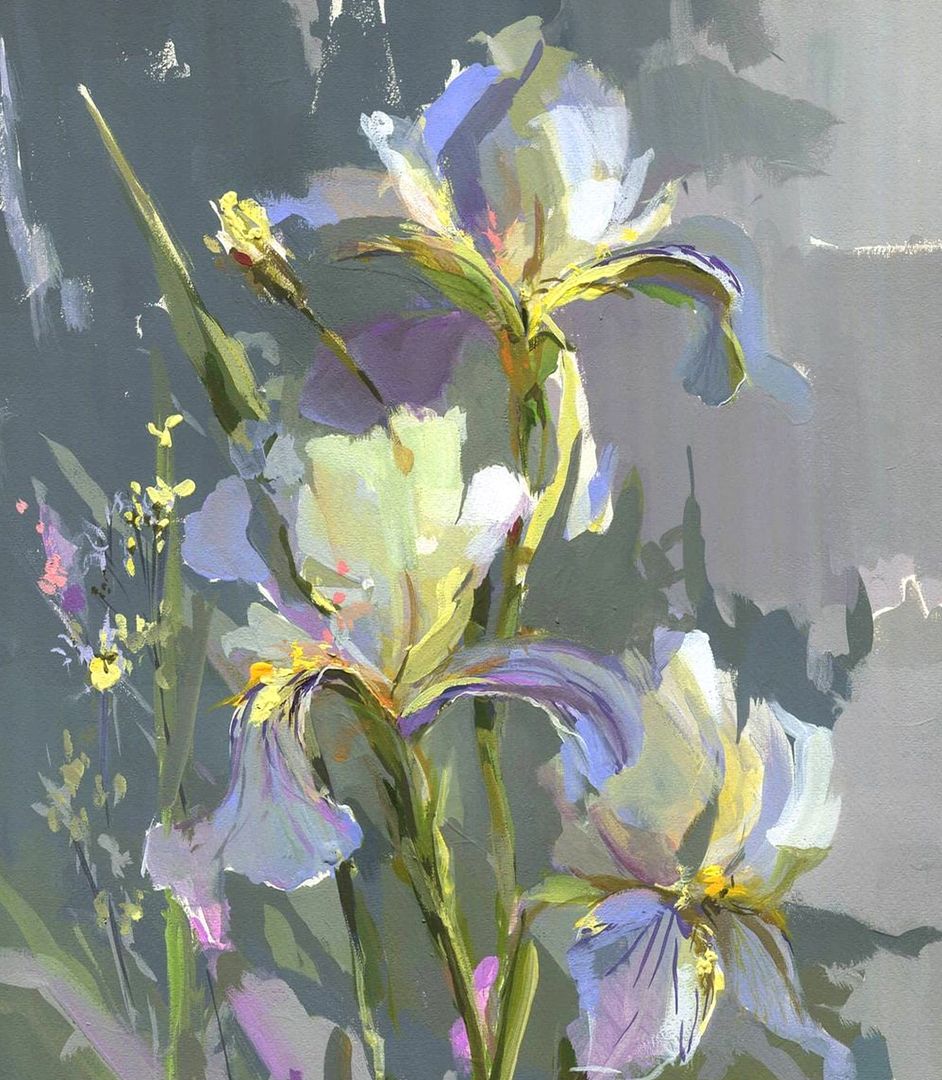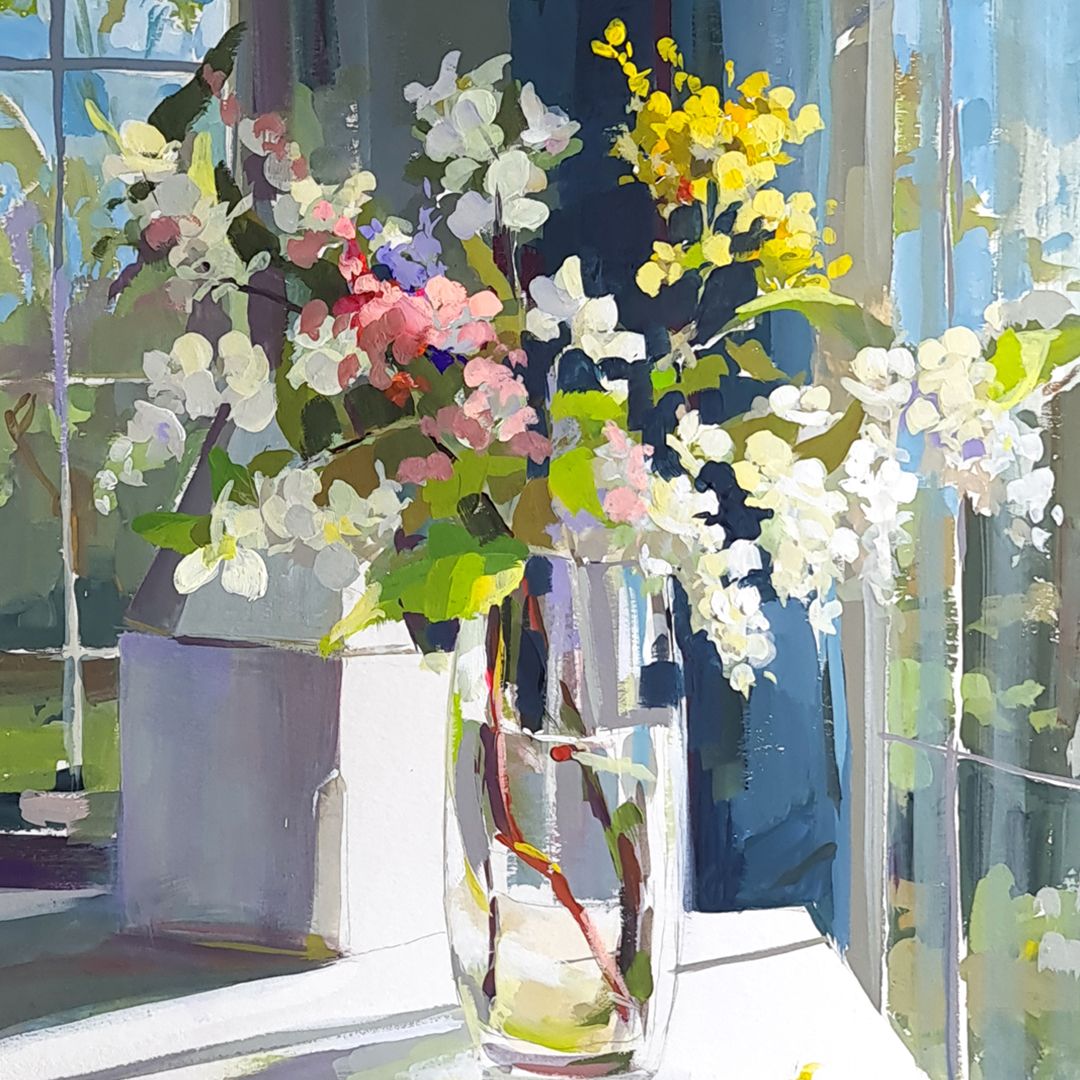 BOUQUET WITH YELLOW FLOWERS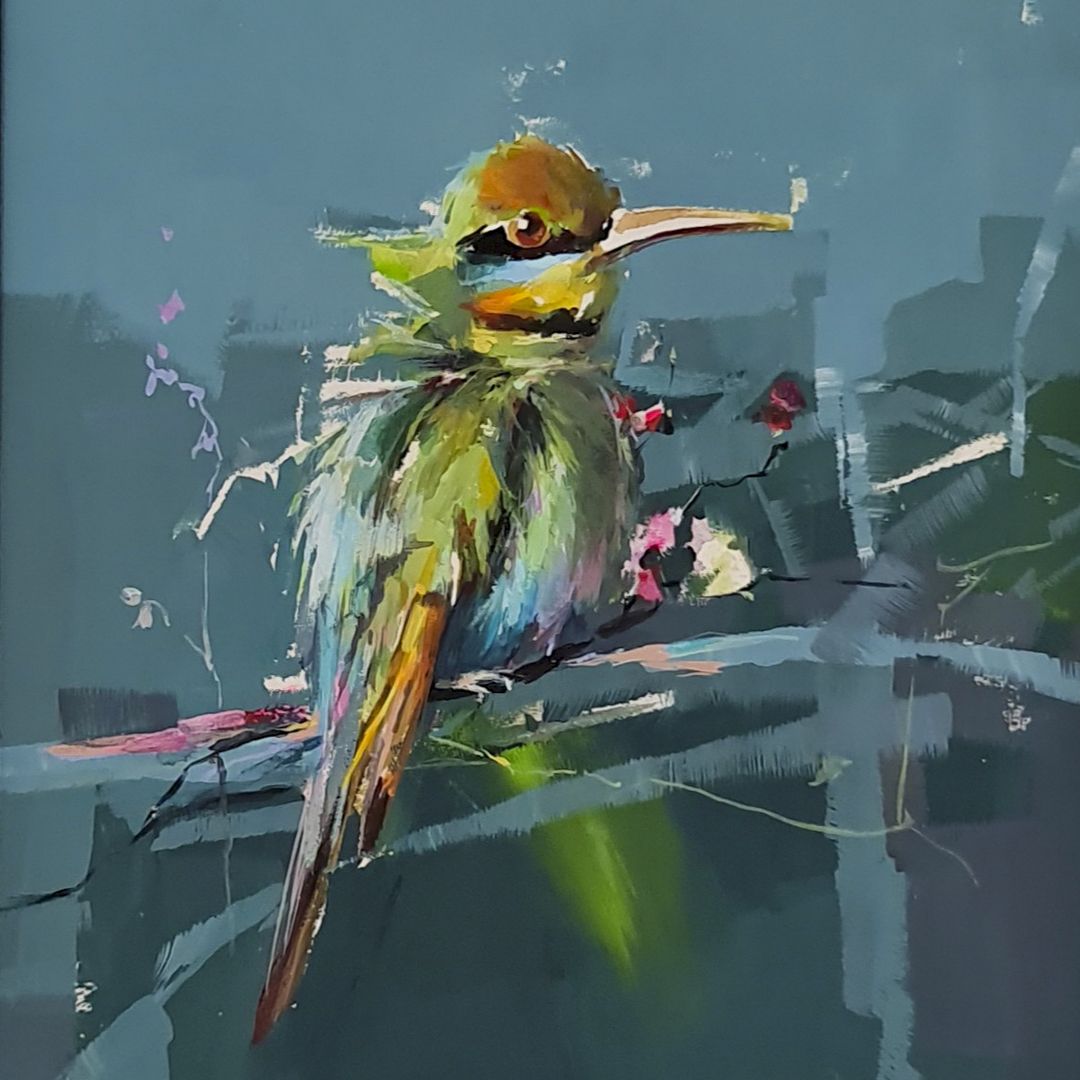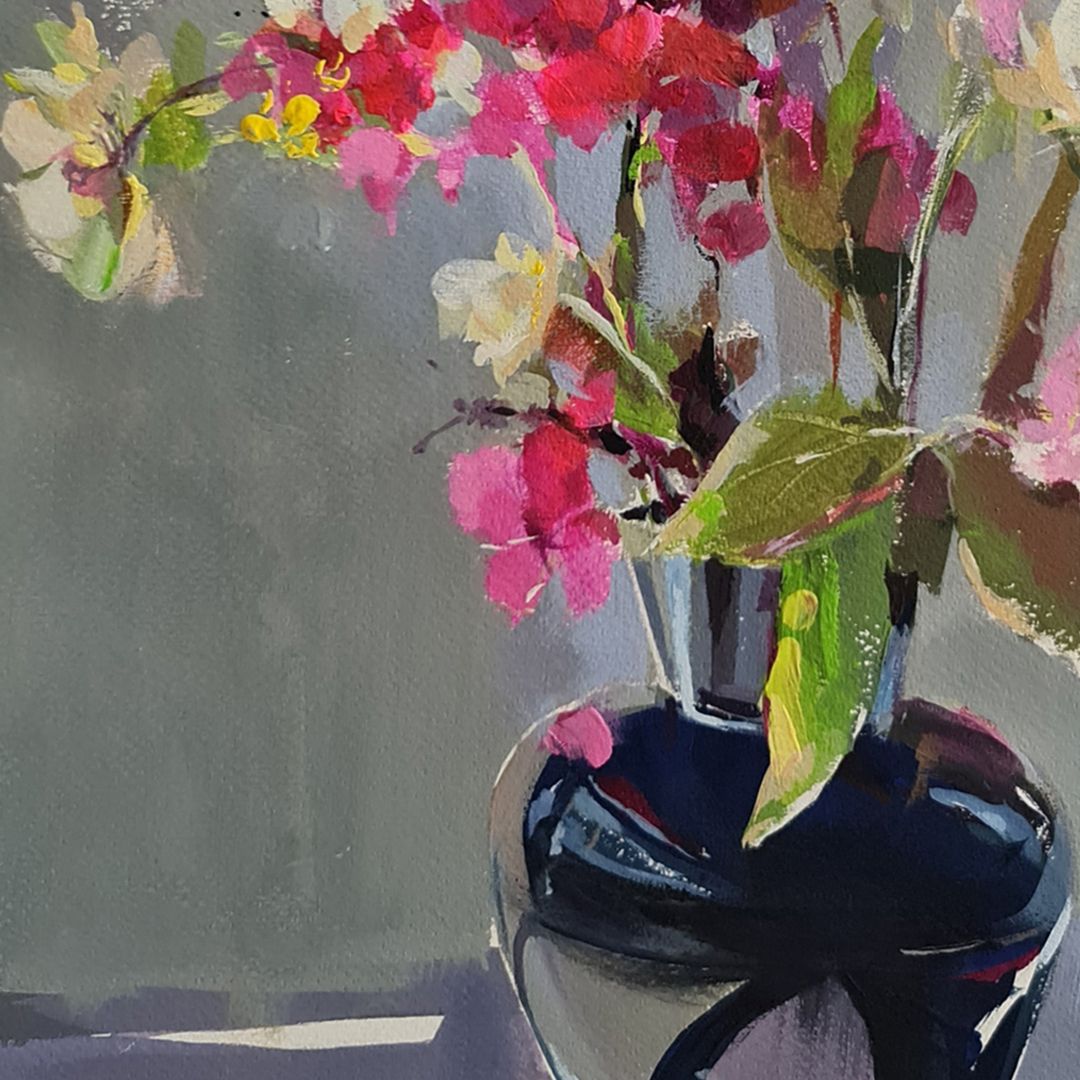 STILL LIFE WITH PINK FLOWERS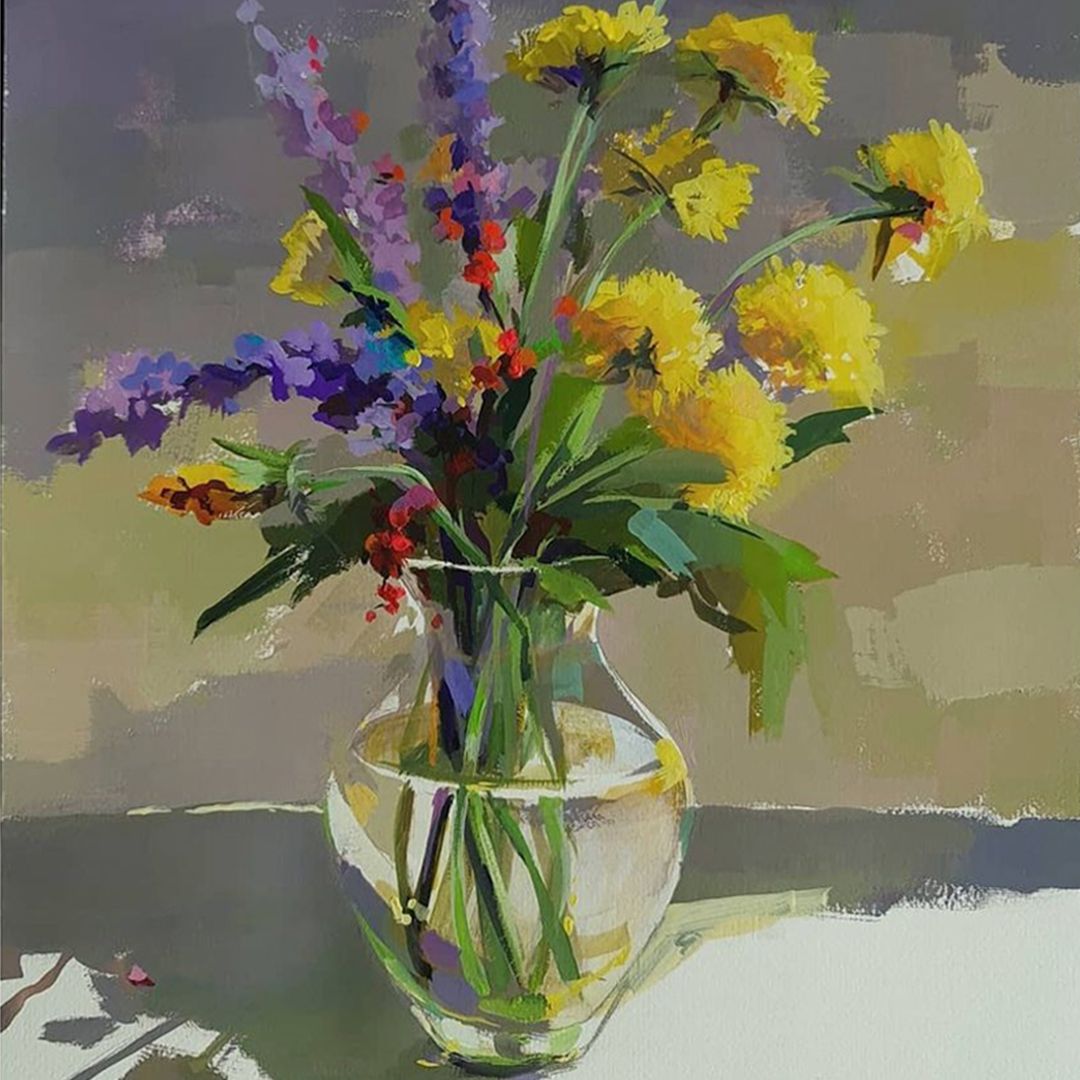 Ekaterina Neshkova, May, 2021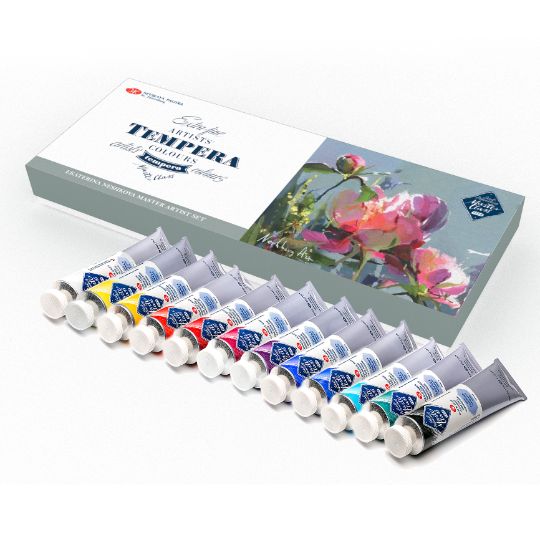 BRIGHT COLOURS SET BY EKATERINA NESHKOVA
The set created by a professional artist, Ekaterina Neshkova, contains 12 pure and deep colours of MASTER CLASS TEMPERA, 11 of them are mono-pigment. Magnificent on their own, these carefully selected colours also perfectly match each other, and thanks to their mono-pigment, they allow you to get any shade, creating an infinite variety of bright and strong colours when mixed.

The exciting shades of the set will inspire the creation of sunny landscapes, bouquets of flowers, still lifes and everything that surrounds us, filled the works with colour, light and movement.

Set contains 12 x 18ml tubes:

Titanium white (101), Cadmium lemon (203), Cadmium yellow medium (201), Cadmium red light (302), Madder lake red (317), Quinacridone rose
(324), Quinacridone violet (621), Ultramarine (511), Phthalocyanine blue (500), Cobalt turquoise (531), Emerald green (713), Lamp black (801).

« I'm an impressionist artist. I paint pictures and teach painting at visiting master classes and in my online school of painting. I set a high standard for the quality and technique of painting. I paint feelings and emotions.
Tempera is my favorite material for sketches. I like to use it in the plein air, because it is water-based colours, no solvents are needed, all you need is paper or cardboard, Tempera and water, as in watercolour painting, and it is very convenient. Working in the studio, I also use primed canvases for Tempera painting. I like Tempera for its simplicity, stability, honesty, and versatility. It allows you to paint with dense, covering, broad strokes, to make the finest lines and patterns, and reminds me of watercolours when diluted with water. Colours after drying retain their original brightness for many years, do not become lighter, as in acrylic or gouache, do not darken or turn yellow, as it can happen with some oil paints.The paint layer is strong and resistant to damage, which makes it different from the classic gouache, which can crumble».

Vyacheslav Korolenkov, May, 2021

"I started to work with Tempera not so long time ago, but since then gouache is one of my favorite media, I was pretty sure, that. I'd like to paint with Tempera too.

Once it dries, it looks like gouache (what I like) and the whole painting doesn't darken, doesn't turn yellow and doesn't change the tone in general. It was also easy to mix the colours, even a few days after the previous painting session.

Unlike oil paints, Tempera dries much faster, but still allows you to paint the artwork picturesquely. And unlike gouache, when painting in layers, the lower layer is not blurred. And if you draw a parallel with watercolours, then here these paints have something in common - if you add a little more water to Tempera, you can paint in glazing technique.
As for me, I consider Tempera as versatile medium, that allows you to work pasty, like with oils and create big detailed paintings, but also make fast sketches on any paper you have at hand».


Etery Sidyakina, May, 2021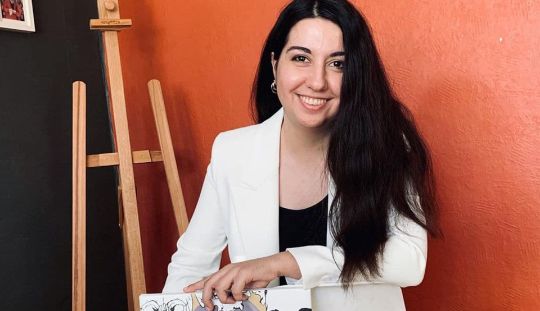 Etery Sidyakina, May, 2021